Quantum 7 Dual Wireless Systems (All Instruments)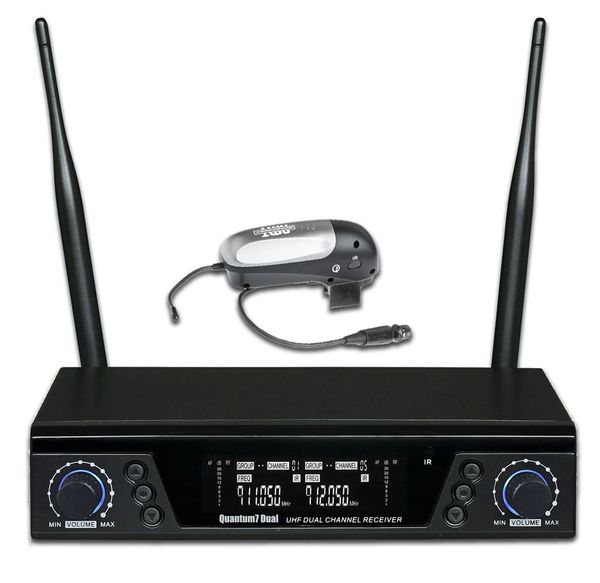 Quantum 7 Dual Wireless Systems (All Instruments)
AS of August 2018, available frequencies are 823-832mhz and 606-614mhz.  902-928mhz systems for the USA are back ordered.
AMT Quantum 7 Dual systems can be ordered in a variety of options. 

To order:
Choose model from drop down list.  (Can be ordered with or without microphone.)
If planning to use as a dual system, add the optional 2nd extra transmitter from the 2nd drop down menu. (Q7, Q7B, Q7V)

Features:

• Dual Diversity receiver (Two mic / transmitters at the same time) with 100 Meter range.
• Available in multiple frequency bands, 600-928mhz.
• Dual receiver includes heavy duty metal chassis with rack ears.
• 100 Channels region dependent with up to 30MHz bandwidth.
• Compatible with all AMT microphones and Quantum 7 transmitters. (Q7 Clip-on, Q7B Beltpack, & Q7V Handheld.)
• XLR & 1/4in Outputs
• Optional rack tray available to mount two receivers  side by side for a total of 4 systems in one rack space.
SPECIFICATION:
UHF 600-928MHz frequency range. Region Dependent.  (902-928, 863-865, 606-630, & 823-832)
PLL Synthesized circuit
Pre-set 200(100*2) selectable frequencies.
Digital Pliot tone-key control, high anti-interference capability
IR sync downloading the frequency from receiver
Optional function of Auto-scan the available clear frequency
LCD status of frequency, AF and RF signal etc
EIA standard 1U rack-mountable metal chassis
Up to 100 meters line-of-sight range
Ideal for professional stage, clubs, churches, and music.
Optional hand-held microphone, bodypack transmitter, and instrument transmitter available.

Comprehensive Performance
Carrier Frequency: UHF600-928MHz
Frequency Stabilization: <±30ppm
Dynamic Range: >95dB
Total Harmonic Distortion:<0.5%
Frequency Response: 40Hz-15KHz±3dB
Audio Output Level: Unbalance 400mV

Receiver
Power Supply: DC12-18V
Consume Power: 1 WATT
Signal/Noise Ratio: >105dB
Image &Spurious Rejection: >80dB
Border upon Channel Rejection: >80dB
Receiving Sensitivity: 5dBuV
De-Emphasis: 50uS

Transmitter 
Transmitter Power: 10~30mW
Modulation Type: FM, 
Deviation: 30KHz
Spurious Emission: >60dB
Battery Voltage: 3V (2x1.5V AA Battery)
Continuous Using: 8 hours