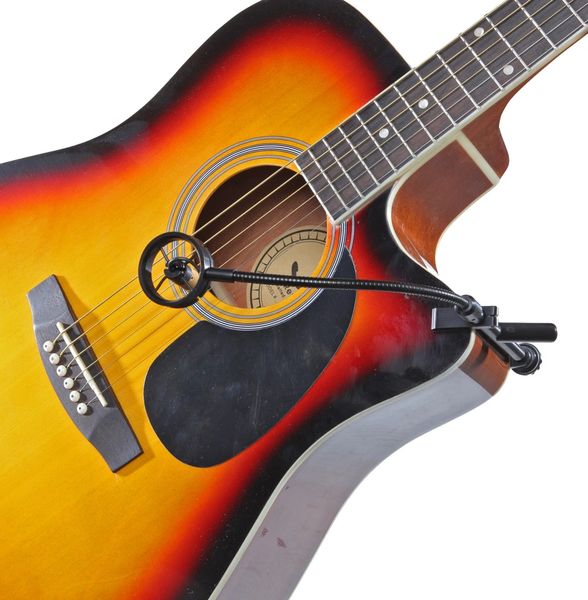 Q7-S15
The Q7-S15 package combines AMT's acoustic guitar microphone system (S15G), with the Quantum 7 belt pack free wireless system for completely belt pack free operation.
The S15G features a secure clamp-on mounting mechanism that provides a secure fit without damaging the instrument's finish. A flexible 6" gooseneck enables easy microphone positioning for optimum results. The microphone features a detachable connection, which connects any of the Quantum wireless systems or an AMT designed preamp.  The microphone can also accept Shure, Sabine, Line 6, and Sennheiser wireless systems with the optional cable.  The S15G is a low-profile condenser microphone that has a cardioid pattern which gives it better gain before feedback than most guitar microphones on the market. The element as well as the mounting clamp is designed for the instrument. AMT designs microphones for each instrument and does NOT adapt elements or mounting gear to fit instruments. It's rugged construction of anodized aviation aluminum makes it highly durable, while being lightweight and non-corrosive.
The Quantum 7's are the answer for any player looking for a belt pack free wireless system. The Q7 will clip on and off of all AMT model microphones. Designed, manufactured, and distributed by AMT throughout the world.
The Q7 "Clip on" wireless system creates the belt pack free operating environment. The system is designed to clip on and off of all AMT microphones by using a hand-machined clip that locks onto various mounting brackets throughout the microphone lineup. Because the Wi5IIC will clamp onto to all AMT models, the microphones can also be used wired with optional AMT preamp's. 
Multi – Channel
The Wi5IIC now includes 99 select-able channels. (Region dependent) Control of the channels is changed via infrared controls from the receiver to the transmitter.
"Clip On"
Since the transmitter will clip on to all AMT models, it is very simple to use your microphone wired with any of the available AMT preamps. If you're a "doubler" and require multiple microphones, the same Q7 / transmitter can be connected to optional AMT microphone.   
Digital LCD Displays
The receivers include illuminated LCD displays for easy visibility on dark stages, or poorly lit clubs or concert halls.    
 Detachable Antenna's
The Quantum 7 and Quantum 7 Dual  include detachable antenna's allow for the addition of a rack and booster kit.
Mute & On / Off Button
The Q7 transmitter includes a mute button as well as an on / off switch for saving battery life on the breaks.