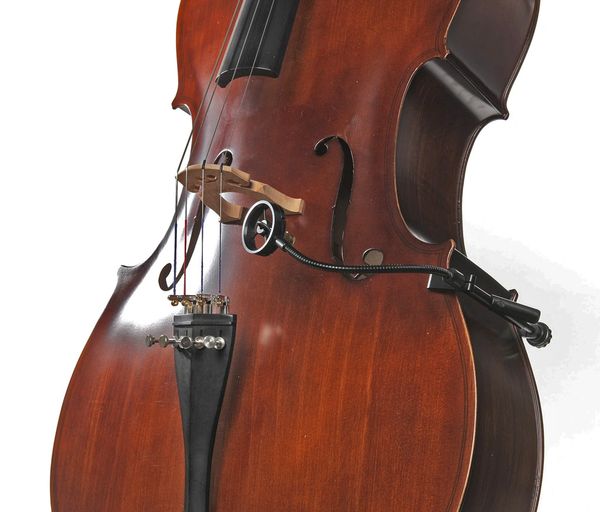 AMT S18 Cello Microphone
Microphone for Cello with side mounting system.

The AMT S18 is Applied Microphone Technology's microphone original side clamping system for cello. Designed, manufactured by hand, and distributed by AMT in the USA. The system is intended to clamp onto the side of a cello allowing for quick and easy removal for traveling or when the microphone is no longer needed.
The S18 is the # 1 choice for top professionals that look for the most natural sound reproduction possible from a clip on microphone. The S18C includes updated features including D.C.T. (Disconnect Cable Technology) with the ability to connect the Quantum wireless systems creating a belt pack free wireless system.

AVAILABLE MODELS: (S18i, S18C)
The S18i comes complete with the Inline preamp, carry pouch, and AMT disconnecting cable technology to allow the microphone to be used wireless with the AMT Quantum 7, Shure Line 6, or Sabine Wireless. Sennheiser cable sold separately. Phantom power required. Includes leather carrying pouch.

The S18C comes complete with the new (2020) BP46 case, and AMT disconnecting cable technology to allow the microphone to be used wireless with the AMT Quantum 7, Shure, Sabine, and Sennheiser cables sold separately. Power by phantom power or one AA battery. Includes hard plastic case.
For more information on preamp choices click
HERE
.
The AMT S18 is an electret-condenser microphone that has been specifically designed for cello. All of the parameters that are problematic for string instruments have been addressed during an intensive study on the sonic characteristics of the instrument.
The first priority was to be able to get the most gain before feedback. The S18 uses a very tight pattern to give a high rejection to surrounding noise, at the same time reproducing accurately the subtleties of the cello.
As placement is especially important with an instrument that has a fine finish and varying dimensions, this microphone's attachment mechanism is designed to secure the mic to the cello in different positions taking seconds to attach. The attachment mechanism is fitted with natural soft suede so as not to mark or mar instrument.
Manufactured with lightweight aluminum to keep the mass low yet extremely strong, this microphone will remain durable through many years of use. The flex arm, unlike any other microphone system on the market, is easy to position yet retains it's placement throughout the most active of performances.
The pre-amp for the microphone is made of rugged anodized aviation aluminum, which houses the electronics that can be placed on the floor. The pre-amp runs off of battery or phantom power. The output is terminated with a male XLR type connector for balanced use. The mic is connected to the pre-amp by a four pin locking connector. Comes with S18C microphone, AP40 Floor Preamp, and a hard shell case