AMT Q7V Mini Handheld Wireless System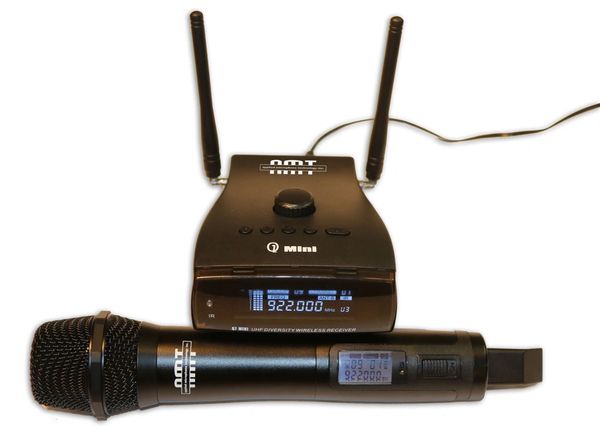 AMT Q7V Mini Handheld Wireless System
AMT Q7V Mini - The smallest available handheld wireless system on the market.  The system includes the Q7V Dynamic vocal microphone powered by 2 - AA batteries with 8 hours of performance time and the Q7 Mini receiver.  The Mini receiver is small enough to fit in a travel bag if needed, offers 99 channels, a built in antenna system, and power by either 2 - AA batteries or included power adapter.

** Mini receiver is available as a wireless package with the Q7V vocal microphone, with all AMT hand made Instrument microphones, or by itself if you already own a Quantum 7 Wireless and AMT microphone.
Features:
UHF 902-928MHz frequency range set for USA

Dual antenna system for maximum range and dropout protection 

PLL Synthesized circuit,
Pre-set 100 select-able frequencies

IR sync changes the frequency from receiver.

LCD display shows status of frequency,
AF and RF signal etc

Ultra Portable with quick and easy setup.
Powered by included power supply OR 2 - AA batteries in case power is not available.

Up to 80m line-of-sight operating range

Designed for professional stage and performance applications
Transmitter / Microphone:
Frequency Range: 902-928MHz
RF Power: 10mW
Microphone Type: Dynamic
Pattern: Cardioid
Battery Voltage: 3V (2x1.5V AA Battery)
Power Consumption: 8 hours, battery-dependent