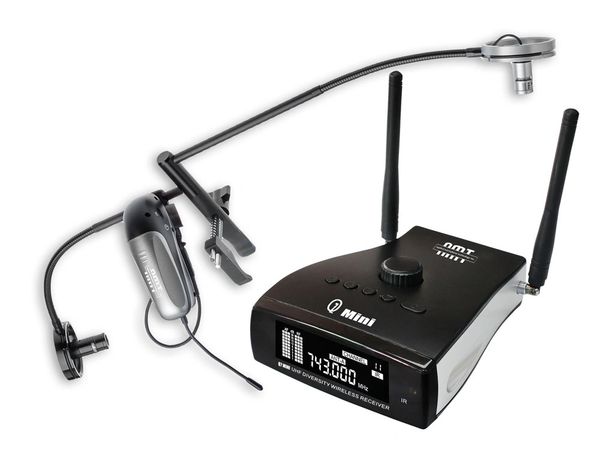 AMT Q7-WS Mini
AMT Q7-WS Mini
- Complete wireless microphone system for clarinet (Includes Q7 AA powered clip-on transmitter, Mini 99- channel receiver & AMT WS double clarinet microphone.
The AMT WS is Applied Microphone Technology's flagship double microphone system for Clarinet. Designed, manufactured by hand, and distributed by AMT in the USA. The system is intended to clip onto standard Bb Clarinet's.
The WS is the # 1 choice for top professionals that look for the most natural sound reproduction possible from a clip on microphone. All versions of the WS now include D.C.T. (Disconnect Cable Technology) which offers the ability to connect to AMT wireless as well as Shure and Sennheiser.

Available Wireless Models: (Q7-WS, Q7-WS Mini, AMT WS-5B)

The

AMT Q7 MINI
wireless system.  The new Q7 Mini system includes the Q7 transmitter and the new MINI receiver.  The system is designed small enough to fit in your horn case or travel bags with ease.  Setup is quick and easy with the antenna's fixed onto the system so there's no need to attach them, carry them separately, or be concerned with losing them.  The Mini is powered by a standard 12V power supply or for even quicker and more portable setups can be power by AA batteries.  The Q7 transmitter is powered by one AA battery.  Just like the Quantum 7 true diversity receiver, the Q7 Mini has 99 channels (frequency dependent) and sync's with the Q7 transmitters via infrared.  The receiver is the perfect addition to your current 900mhz Quantum system or order the complete setup with microphone and transmitter.  863-865mhz systems are also available for Europe and the UK.